Project description
At the former uranium mining site in eastern Thuringia, the university established in 2016 four plots in which radionuclide/metal transport into plant biomass and the impact of soil microorganisms on the prevalent processes. Specifically, studies of metal mobility involving the effect of (ectomycorrhizal) hyphae on soil stability, soil microbiology and functions are addressed in the field and by applying microcosm studies. To address impact of fungi on soil mechanics, fungi are to be inoculated and the resulting soil cores tested for mechanical and shearing stability mimicking heavy rain events. Model fungi are inoculated and the effect of glucans on water holding capacity or aquaporin proteins on water uptake and transfer either leading to guttation droplet excretion or transfer to the symbiotic tree will be studied. Using heavy metal adapted fungal strains, these investigations will yield insight into metal transport in the environment. Here, specifically glucans produced by the fungi will be addressed.
The proposed project will address the following research questions:
How do fungal glucans impact soil structure and hence erosion?
What is the impact of mycorrhizal water transport on tree growth during climate change?
In order to address these research questions, the candidate will perform analyses of bioavailability, microbial community analyses and microcosm experiments in addition to field studies.
Requirements
Applications to the IMPRS-gBGC are open to well-motivated and highly-qualified students from all countries. Prerequisites for this PhD project are:
Master's degree in Biogeosciences or Microbiology, etc.
Experience in (hydro)geology, molecular biology and/or microbiology
Interest in metal distribution in the environment and tomographic studies using CT
Very good oral and written communication skills in English, knowledge of German is an asset
The Max Planck Society seeks to increase the number of women in those areas where they are underrepresented and therefore explicitly encourages women to apply. The Max Planck Society is committed to increasing the number of individuals with disabilities in its workforce and therefore encourages applications from such qualified individuals.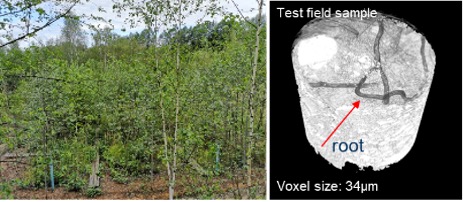 Left: Test field site at the former uranium mining site Kanigsberg for investigation of metal distribution in the environment; Right: Visualization of hyphae in a soil core.