Scientists meet in the middle of the Atlantic Ocean
September 12, 2013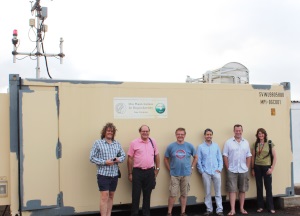 Ascension Island. Climate scientists from three British universities and from the Max Planck Institute for Biogeochemistry met by chance on Ascension Island. The team from the Universities of Birmingham and Bristol was on Ascension to plan several unmanned aerial vehicle (UAV) campaigns to measure methane over the island. The colleagues from Royal Holloway University, London, replaced a broken carbon dioxide/methane instrument at the airfield. And our MPI-BGC team maintained the Total Carbon Column Observing Network (TCCON) instrument.

The scientists quickly realized that they all have a common interest in measuring and learning more about methane in the tropics. They therefore agreed to meet again on Ascension Island for the UAV campaign in early 2014 and collaboratively share their data afterwards. On the spot, the Max-Planck team was able to provide a full-year record of meteorological measurements from the east side of the island which should be very helpful for the British colleagues' flight planning.