Award ceremony of the Max Planck Research Prize
November 15, 2013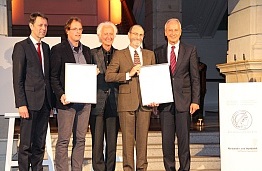 Markus Reichstein, director at our institute and Chris Field, founding director of the Department of Global Ecology at the Carnegie Institution for Science and Professor at Stanford University were awarded the Max Planck Research Prize in Berlin on November 13, 2013.

This important award is funded by the Federal Ministry of Education and Research and granted annually by the Alexander von Humboldt Foundation and the Max Planck Society to one scientist working in Germany and one working in another country. Both scientists have significantly contributed to our understanding of how ecosystems respond to climate change.