Susan Trumbore honored for successful work in AGU publication program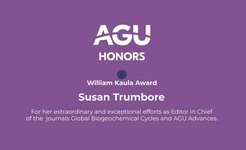 Susan Trumbore, Director at Max Planck Institute for Biogeochemistry in Jena, Germany, has immensely advanced several scientific journals of the American Geophysical Union (AGU). For this effort Susan Trumbore received AGU's William Kaula Award, dedicated to "recognize an individual who has unselfishly served AGU's publications program and the scientific community through extraordinary dedication and efforts".
Susan Trumbore has been chief editor of Global Biogeochemical Cycles (GBC) for four years. Under her leadership, the editorial procedures were reorganized to make GBC again the journal of choice for anyone interested in research on biogeochemistry, the physical Earth system and climate.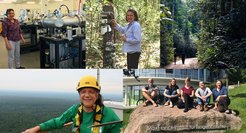 In 2019, Susan Trumbore became founding Editor in Chief of AGU's new flagship journal AGU Advances. The idea behind AGU Advances is to give earth and space scientists an open access journal to publish research and commentary that is of broad and immediate impact. Thanks to the authors who took a risk to publish in the new journal and to the dedicated editorial board, AGU Advances is off to a good start and a respectable early impact factor.
"I feel very honored to be recognized with the William Kaula Award, especially when there are so many highly dedicated and equally deserving people working hard to ensure the very high standards for science published in AGU journals.", Susan Trumbore says. She also explicitly thanks the diverse team of the editorial board, which she had recruited, for successfully shaping the new journal.
The award ceremony was held at the AGU fall meeting in Chicago, IL, on December 14th, 2022.