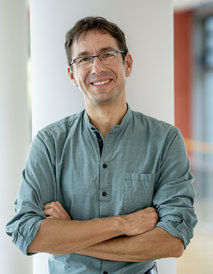 © A. Schroll/BGC
Geschäftsführender Direktor
Aufgabengebiet
Mein Hauptforschungsinteresse gilt der Wechselwirkung zwischen Landbiota und dem Klimasystem. Meine Forschung integriert neue ökophysiologische Erkenntnisse, ökologische Beobachtungen (einschließlich Informationen über Pflanzeneigenschaften, In-situ-Messungen, Messungen der atmosphärischen Konzentration und Fernerkundungsdaten) mit der Modellierung auf verschiedenen Skalen und Komplexitätsebenen. Ich entwickle, teste und wende groß angelegte prozessbasierte terrestrische Biosphärenmodelle an, um die Wechselwirkungen zwischen Landoberflächen- und atmosphärischen Prozessen zu verstehen.
Vita
| | |
| --- | --- |
| seit 2020 | Direktor der Abteilung Biogeochemical Signale am Max-Planck-Institut für Biogeochemie, Jena, DE |
| 2009-2020 | Leiter der Arbeitsgruppe Terrestrial Biosphere Modelling am  Max-Planck-Institut für Biogeochemie,  Jena, DE |
| 2005-2008 | PostDoc am Laboratoire des Sciences du Climat et de l'Environnement, Gif sur Yvette, FR |
| 2001-2005 | Doktorand an der Universität Potsdam / Potsdam Institut für Klimafolgenforschung, Potsdam, DE |
| 2000-2001 | MSc-Environmental Sciences an der University of East Anglia, Norwich, UK. |
| 1997-2000 | Studium der Geoecology am Institut für Geoökologie, Technische Universität Braunschweig, Braunschweig, DE. |
Meine Arbeit am MPI für Biogeochemie
Nutrient cycles and the global carbon cycle

Earth System Models for the future (ESM2025): Further development and application of the QUINCY model (Quantifying interactions between terrestrial nutrient cycles and the climate system.
ClimGrassHydro: Model-data synthesis for the ClimGrass experiment to analyze effects of warming, elevated CO_2 and extreme climatic events on the productivity and biogeochemistry of a managed C3 grassland.

Model evaluation and benchmarking activities

TRENDY: Trends in net land carbon exchange over the contemporary period.
Lehre
Honorarprofessor an der Chemisch-Geowissenschaftlichen Fakultät der Friedrich-Schiller Universität, Jena, Mitglieder der Fakultät der IMPRS for Global Biogeochemical Cycles.
Community service
Ausgewählte Veröffentlichungen in Peer-Review
2
concentrations: sensitivity and large-scale biogeochemical implications. New Phytologist
213
(4), S. 1654 - 1666 (2017)
The response of ecosystem water-use efficiency to rising atmospheric CO
5
(6), S. 528 - 534 (2015)
Using ecosystem experiments to improve vegetation models. Nature Climate Change
26
(7), S. 3978 - 3996 (2020)
Ensemble projections elucidate effects of uncertainty in terrestrial nitrogen limitation on future carbon uptake. Global Change Biology
12
, S. 4781 - 4802 (2019)
A new terrestrial biosphere model with coupled carbon, nitrogen, and phosphorus cycles (QUINCY v1.0; revision 1772). Geoscientific Model Development
4
(9), S. 601 - 605 (2011)
Carbon benefits of anthropogenic reactive nitrogen offset by nitrous oxide emissions. Nature Geoscience
3
(5), S. 311 - 320 (2011)
Carbon-nitrogen interactions on land at global scales: current understanding in modelling climate biosphere feedbacks. Current Opinion in Environmental Sustainability
Terrestrial nitrogen feedbacks may accelerate future climate change. Geophysical Research Letters
2
enrichment studies. New Phytologist
202
(3), S. 803 - 822 (2014)
Evaluation of 11 terrestrial carbon-nitrogen cycle models
 against observations from two temperate free-air CO