Ecosystem Function from Earth Observation
Dr. Gregory Duveiller
Mission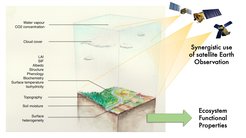 Carbon, water and energy fluxes between the land and the atmosphere strongly depend on the functioning of ecosystems. Yet, understanding, characterizing and predicting the role of land on climate is intrinsically challenging, not only because of the complexity of the processes involved, but also by the large heterogeneity of the land surface itself. This spatial variation results from local climatological, topographical and edaphic conditions, but also by the great diversity in vascular plants, in how they are organized in distinctive ecosystems, in how these are structured within the landscape, and how these landscapes have been shaped and altered by humans for millennia.

The Ecosystem Function from Earth Observation group aims at rethinking how we quantify and map ecosystem functional properties from space by synergistically exploiting the increasing diversity of complementary satellite data streams that are currently available. This involves redesigning how we combine these signals together by integrating process-based understanding and data-driven approaches. A key focus is on exploring the complexity and diversity of terrestrial ecosystems, and how their specific functional properties affect land-atmosphere interactions. Topics explored under this umbrella include: (i) improving estimations of carbon, water and energy fluxes; (ii) studying the role of biodiversity (specifically functional diversity) to improve ecosystem resilience; (iii) exploring the biophysical effects of land use and land management on climate.
Team
Name
Phone
Email
Room
Links
Image
C3.015
C1.008
C3.002b
ITP B 3.31
C1.022a
Projects
Publications
Publications from Gregory Duveiller
1.
Journal Article
19
(20), pp. 4833 - 4864 (2022)
Sun-induced fluorescence as a proxy for primary productivity across vegetation types and climates. Biogeosciences
2.
Journal Article
13
(3), pp. 1305 - 1350 (2022)
The biogeophysical effects of idealized land cover and land management changes in Earth System Models. Earth System Dynamics
3.
Journal Article
Potentials and limitations of NFIs and remote sensing in the assessment of harvest rates: a reply to Breidenbach et al. Annals of Forest Science
4.
Journal Article
Widespread increasing vegetation sensitivity to soil moisture. Nature Communications
Show more
Publications from Johnannes Gensheimer
1.
Journal Article
19
(6), pp. 1777 - 1793 (2022)
A convolutional neural network for spatial downscaling of satellite-based solar-induced chlorophyll fluorescence (SIFnet). Biogeosciences
2.
Preprint
Understanding greenhouse gas (GHG) column concentrations in Munich using WRF. (2022)
Publications from Ulisee Gomarasca
The three major axes of terrestrial ecosystem function
Nature 598, 468–472 (2021).
Publications from Javier Pacheco Labrador
1.
Journal Article
Global modeling diurnal gross primary production from OCO-3 solar-induced chlorophyll fluorescence. Remote Sensing of Environment
2.
Journal Article
Challenging the link between functional and spectral diversity with radiative transfer modeling and data. Remote Sensing of Environment
3.
Journal Article
Evergreen broadleaf greenness and its relationship with leaf flushing, aging, and water fluxes. Agricultural and Forest Meteorology
Show more