Biod.AI.versity Observation & Integration (Bio.AI)
Dr. Jana Waeldchen
Our mission
Our goal is to simplify, accelerate and increasingly automate global biodiversity monitoring through automated species identification in citizen science projects and remote sensing. Our specifically developed AI technology for species identification provides large amounts of data for this, and targeted science communication additionally contributes to raising public awareness for the protection of biodiversity.
Focus areas of the Bio.AI research group: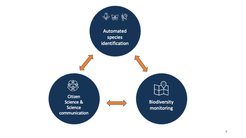 The Bio.AI research group combines three focus areas that each complement each other:
Automated species identification
Biodiversity monitoring
Citizen Science/Science communication
Automated species identification
Within this research focus, we develop and use innovative methods of artificial intelligence to automate species identification. As part of our research activities, the Flora Incognita app was developed. To date, the app can identify 4800 wild plants of Central Europe simply by taking photos in the field, resulting in many millions of plant observations including geolocation. By 2022, the app had been installed more than 5 million times.
Building on this successful framework, we are working on the automatic identification of other life forms such as phytoplankton, fungi and butterflies.
Key Publications:
Michael Rzanny et al. (2022)
Image-based automated recognition of 31 Poaceae species: The most relevant perspectives
Frontiers in Plant Science,12: 804140. doi: 10.3389/fpls.2021.804140
Roelvan Klink et al. (2022)
Emerging technologies revolutionise insect ecology and monitoring
Trends in Ecology & Evolution. doi: 10.1016/j.tree.2022.06.001
Michael Rzanny et al. (2019)
Flowers, leaves or both? How to obtain suitable images for automated plant identification
Plant Methods 15, 77. doi: 10.1186/s13007-019-0462-4
Susanne Dunker et al. (2018)
Combining high‑throughput imaging flow cytometry and deep learning for efficient species and life‑cycle stage identification of phytoplankton
BMC Ecology 18, 51. doi: 10.1186/s12898-018-0209-5
Biodiversity Monitoring
The Bio.AI research group aims to simplify, accelerate and increasingly automate global biodiversity monitoring. Therefore, in this research area, we are currently focusing on the question of the extent to which automated species identification in combination with Citizen Science and remote sensing can contribute to biodiversity monitoring. The steadily growing number of plant occurrence data via the Flora Incognita app already provides us with important information:
When and where do which species flower?
How much do the characteristics of a plant species vary?
How do the composition of plant communities and the locations of plants change in connection with climate change and the type of underlying land use?
Key publication
Miguel D. Mahecha et al. (2021)
Crowd-sourced plant occurrence data provide a reliable description of macroecological gradients
Ecography (Editors' Choice). doi: 10.1111/ecog.05492
Citizen Science & Science communication
Biodiversity monitoring data are often collected by trained persons, and usually only reach a small temporal and spatial coverage. Another limiting factor is the growing public loss in species knowledge. With the developement of automated species idenfication tools it is now possible that people without any species knowledge can collect biodiversity data. Those rarely follow a strict protocol regarding where, when, and how to record a species - resulting in a set of unstructured data.
Within the Bio.AI research group, we run two Citizen Science projects to collect plant species occurences: The Flora Incognita project, which collects opportunistic plant observations, and the Flora Capture project, where Citizen Scientists record plant findings in a set of predefined perspectives, resulting in a set of structured images.
In order to reach as many people as possible to use our apps and collect plant occurrence data, we invest significant resources into science communication:
Social Media channels (Twitter, Instagram, Facebook, Youtube)
Flora Incognita website and blog
Exhibitions and events (MS Wissenschaft, Long Night of Science)
Traditional PR like interviews, podcasts, articles
Key publications
Patrick Mäder et al. (2021)
The Flora Incognita app – Interactive plant species identification
Methods in Ecology and Evolution. 12: 1335– 1342; doi: 10.1111/2041-210X.13611
David Boho et al. (2020)
Flora Capture: a citizen science application for collecting structured plant observations,
BMC Bioinformatics 21, 576; doi:10.1186/s12859-020-03920-9
Projects
Key Papers
1.
Journal Article
Jana Wäldchen, Hans Christian Wittich, Michael Rzanny, Alice Fritz, and Patrick Mäder, "Towards more effective identification keys: A study of people identifying plant species characters," People and Nature 4 (6), 1603-1615 (2022).
2.
Journal Article
Roel van Klink, Tom August, Yves Bas, Paul Bodesheim, Aletta Bonn, Frode Fossøy, Toke T. Høye, Eelke Jongejans, Myles H.M. Menz, Andreia Miraldo, Tomas Roslin, Helen E. Roy, Ireneusz Ruczyński, Dmitry Schigel, Livia Schäffler, Julie K. Sheard, Cecilie Svenningsen, Georg F. Tschan, Jana Wäldchen, Vera M.A. Zizka, Jens Åström, and Diana E. Bowler, "Emerging technologies revolutionise insect ecology and monitoring," Trends in Ecology and Evolution 37 (10), 872-885 (2022).
3.
Journal Article
Kevin Karbstein, Salvatore Tomasello, Ladislav Hodac, Natascha Wagner, Pia Marinček, Birthe Hilkka Barke, Claudia Paetzold, and Elvira Hörandl, "Untying Gordian knots: unraveling reticulate polyploid plant evolution by genomic data using the large Ranunculus auricomus species complex," New Phytologist 235 (5), 2081-2098 (2022).
4.
Journal Article
Negin Katal, Michael Rzanny, Patrick Mäder, and Jana Wäldchen, "Deep learning in plant phenological research: A systematic literature review," Frontiers in Plant Science 13, 805738 (2022).
5.
Journal Article
Bernhard Schmid, Martin Schmitz, Michael Rzanny, Michael Scherer-Lorenzen, Peter N. Mwangi, Wolfgang W. Weisser, Andrew Hector, Roland Schmid, and Dan F. B. Flynn, "Removing subordinate species in a biodiversity experiment to mimic observational field studies," Grassland Research 1 (1), 53-62 (2022).
Show more