Climate-ecosystem-disturbance interactions group
Dr. Ana Bastos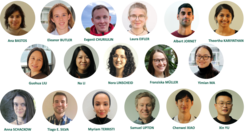 Mission
The Climate-Ecosystem-Disturbance Interactions group focuses on the links between climate variability and change, disturbance regimes and ecosystem structure and functioning, at regional to global scales. More specifically, the group's research aims to: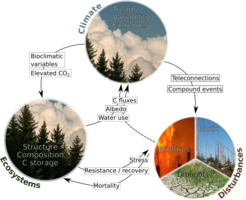 (i) quantify ecosystem vulnerability and resilience to climate extremes and changes in disturbance patterns, including the role of management;
(ii) understand the effects of compound disturbances (climatic and/or biotic) on ecosystem dynamics and biogeochemical cycling;
(iii) gain insights on the drivers of inter-annual to decadal variability in the carbon cycle with a focus on ocean-atmosphere-land teleconnections.
By combining observation-based data (such as eddy-covariance, atmospheric monitoring, remote-sensing) and data-driven and process-based modeling, the group's research aims at reducing uncertainties in key components of the earth system, particularly the feedbacks between climate and the carbon-cycle and better constrain the contribution of land ecosystems for climate change mitigation.
Team
Current Team Members
Name
Phone
Room
Links
ITP B.3.006
ITP B3.22
ITP B3.031
ITP B.3.006
ITP B3.26
ITP B3.24
ITP B3.030
ITP B3.22
ITP B.3.28
ITP B3.26
ITP B3.26
Opportunities
We will have openings for two PhD positions in forest disturbance modelling in the ERC project ForExD in 2023. For questions, please contact Dr. Ana Bastos (abastos@bgc-jena.mpg.de)
News
News and updates from the Climate-Ecosystem Disturbance Interations group will be shown here.
Recent publications
1.
Journal Article
M. Wu, S. Manzoni, G. Vico, Ana Bastos, F. de Vries, and G. Messori, "Drought legacy in sub-seasonal vegetation state and sensitivity to climate over the Northern Hemisphere," Geophysical Research Letters (2022).
2.
Journal Article
Kai Wang, Ana Bastos, Philippe Ciais, Xuhui Wang, Christian Rödenbeck, Pierre Gentine, Frédéric Chevallier, Vincent W. Humphrey, Chris Huntingford, Michael O'Sullivan, Sonia I. Seneviratne, Stephen Sitch, and Shilong Piao, "Regional and seasonal partitioning of water and temperature controls on global land carbon uptake variability," Nature Communications 13, 3469 (2022).
3.
Journal Article
David Crisp, Han Dolman, Toste Tanhua, Galen A. McKinley, Judith Hauck, Ana Bastos, Stephen Sitch, Simon Eggleston, and Valentin Aich, "How well do we understand the land-ocean-atmosphere carbon cycle?," Reviews of Geophysics 60 (2), e2021RG000736 (2022).
4.
Journal Article
Sungmin O, Ana Bastos, Markus Reichstein, Wantong Li, Jasper M. C. Denissen, Hanna Graefen, and René Orth, "The role of climate and vegetation in regulating drought-heat extremes," Journal of Climate (2022).
5.
Journal Article
Zhu Deng, Philippe Ciais, Zitely A. Tzompa-Sosa, Marielle Saunois, Chunjing Qiu, Chang Tan, Taochun Sun, Piyu Ke, Yanan Cui, Katsumasa Tanaka, Xin Lin, Rona L. Thompson, Hanqin Tian, Yuanzhi Yao, Yuanyuan Huang, Ronny Lauerwald, Atul K. Jain, Xiaoming Xu, Ana Bastos, Stephen Sitch, Paul I. Palmer, Thomas Lauvaux, Alexandre d'Aspremont, Clément Giron, Antoine Benoit, Benjamin Poulter, Jinfeng Chang, Ana Maria Roxana Petrescu, Steven J. Davis, Zhu Liu, Giacomo Grassi, Clément Albergel, Francesco N. Tubiello, Lucia Perugini, Wouter Peters, and Frédéric Chevallier, "Comparing national greenhouse gas budgets reported in UNFCCC inventories against atmospheric inversions," Earth System Science Data 14, 1639-1675 (2022).
Show more