Climate-ecosystem-disturbance interactions group
Dr. Ana Bastos
Mission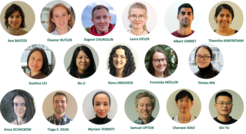 The Climate-Ecosystem-Disturbance Interactions group focuses on the links between climate variability and change, disturbance regimes and ecosystem structure and functioning, at regional to global scales. More specifically, the group's research aims to: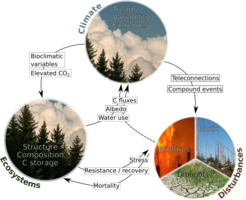 (i) quantify ecosystem vulnerability and resilience to climate extremes and changes in disturbance patterns, including the role of management;
(ii) understand the effects of compound disturbances (climatic and/or biotic) on ecosystem dynamics and biogeochemical cycling;
(iii) gain insights on the drivers of inter-annual to decadal variability in the carbon cycle with a focus on ocean-atmosphere-land teleconnections.
By combining observation-based data (such as eddy-covariance, atmospheric monitoring, remote-sensing) and data-driven and process-based modeling, the group's research aims at reducing uncertainties in key components of the earth system, particularly the feedbacks between climate and the carbon-cycle and better constrain the contribution of land ecosystems for climate change mitigation.
Team
Highlights
Ana Bastos is this year's winner of the Beutenberg Campus science award in the category "outstanding junior research scientist".
Xin Yu's study "Contrasting drought legacy effects on gross primary productivity in a mixed versus pure beech forest" highlighted in EGU Biogeosciences.
Recent publications
1.
Journal Article
Elisabeth Tschumi, Sebastian Lienert, Ana Bastos, Philippe Ciais, Konstantin Gregor, Fortunat Joos, Jürgen Knauer, Philip Papastefanou, Anja Rammig, Karin van der Wiel, Karina Williams, Yidi Xu, Sönke Zaehle, and Jakob Zscheischler, "Large variability in simulated response of vegetation composition and carbon dynamics to variations in drought-heat occurrence," Journal of Geophysical Research: Biogeosciences (2023).
2.
Journal Article
Dominic Fawcett, Stephen Sitch, Philippe Ciais, Jean Pierre Wigneron, Celso H. L. Silva-Junior, Viola Heinrich, Christelle Vancutsem, Frédéric Achard, Ana Bastos, Hui Yang, Xiaojun Li, Clément Albergel, Pierre Friedlingstein, and Luiz E. O. C. Aragão, "Declining Amazon biomass due to deforestation and subsequent degradation losses exceeding gains," Global Change Biology 29 (4), 1106-1118 (2023).
3.
Journal Article
Lei Fan, Jean-Pierre Wigneron, Philippe Ciais, Jérome Chave , Martin Brandt, Stephen Sitch, Chao Yue, Ana Bastos, Xin Li, Yuanwei Qin, Wenping Yuan, Dmitry Schepaschenko, Liudmila Mukhortova, Xiaojun Li, Xiangzhuo Liu, Mengjia Wang, Frédéric Frappart, Xiangming Xiao, Jingming Chen, Mingguo Ma, Jianguang Wen, Xiuzhi Chen, Hui Yang, Dave van Wees, and Rasmus Fensholt, "Siberian carbon sink reduced by forest disturbances," Nature Geoscience 16, 56-62 (2022).
4.
Journal Article
Miguel D. Mahecha, Ana Bastos, Friedrich J. Bohn, Nico Eisenhauer, Hannes Feilhauer, Henrik Hartmann, Thomas Hickler, Heike Kalesse-Los, Mirco Migliavacca, Friederike E. L. Otto, Jian Peng, Johannes Quaas, Ina Tegen, Alexandra Weigelt, Manfred Wendisch, and Christian Wirth, "Biodiversity loss and climate extremes — study the feedbacks," Nature 612, 30-32 (2022).
5.
Journal Article
Na Li, Sebastian Sippel, Alexander Winkler, Miguel D. Mahecha, Markus Reichstein, and Ana Bastos, "Interannual global carbon cycle variations linked to atmospheric circulation variability," Earth System Dynamics 13 (4), 1505-1533 (2022).
Show more