Climate-ecosystem-disturbance interactions group
Dr. Ana Bastos
Mission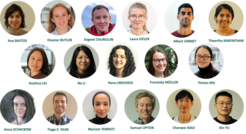 The Climate-Ecosystem-Disturbance Interactions group focuses on the links between climate variability and change, disturbance regimes and ecosystem structure and functioning, at regional to global scales. More specifically, the group's research aims to: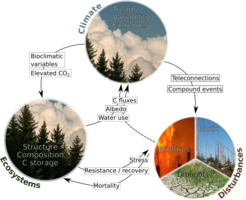 (i) quantify ecosystem vulnerability and resilience to climate extremes and changes in disturbance patterns, including the role of management;
(ii) understand the effects of compound disturbances (climatic and/or biotic) on ecosystem dynamics and biogeochemical cycling;
(iii) gain insights on the drivers of inter-annual to decadal variability in the carbon cycle with a focus on ocean-atmosphere-land teleconnections.
By combining observation-based data (such as eddy-covariance, atmospheric monitoring, remote-sensing) and data-driven and process-based modeling, the group's research aims at reducing uncertainties in key components of the earth system, particularly the feedbacks between climate and the carbon-cycle and better constrain the contribution of land ecosystems for climate change mitigation.
Team
Highlights
Ana Bastos is this year's winner of the Beutenberg Campus science award in the category "outstanding junior research scientist".
Xin Yu's study "Contrasting drought legacy effects on gross primary productivity in a mixed versus pure beech forest" highlighted in EGU Biogeosciences.
Recent publications
1.
Journal Article
Annu Panwar, Mirco Migliavacca, Jacob A. Nelson, José Cortés, Ana Bastos, Matthias Forkel , and Alexander Winkler, "Methodological challenges and new perspectives of shifting vegetation phenology in eddy covariance data," Scientific Reports 13, 13885 (2023).
2.
Journal Article
Giovanni Forzieri, Loïc P. Dutrieux, Agata Elia, Bernd Eckhardt, Giovanni Caudullo, Flor Álvarez Taboada, Alessandro Andriolo, Flavius Bălăcenoiu, Ana Bastos, Andrei Buzatu, Fernando Castedo Dorado, Lumír Dobrovolný, Mihai-Leonard Duduman, Angel Fernandez-Carrillo, Rocío Hernández-Clemente, Alberto Hornero, Săvulescu Ionuț, María J. Lombardero, Samuli Junttila, Petr Lukeš, Leonardo Marianelli, Hugo Mas, Marek Mlčoušek, Francesco Mugnai, Constantin Nețoiu, Christo Nikolov, Nicolai Olenici, Per-Ola Olsson, Francesco Paoli, Marius Paraschiv, Zdeněk Patočka, Eduardo Pérez-Laorga, Jose Luis Quero, Marius Rüetschi, Sophie Stroheker, Davide Nardi, Ján Ferenčík, Andrea Battisti, Henrik Hartmann, Constantin Nistor, Alessandro Cescatti, and Pieter S. A. Beck, "The Database of European Forest Insect and Disease Disturbances: DEFID2," Global Change Biology (2023).
3.
Journal Article
Sophie Ruehr, Trevor F. Keenan, Christopher Williams, Yu Zhou, Xinchen Lu, Ana Bastos, Josep G. Canadell, Iain Colin Prentice, Stephen Sitch, and César Terrer, "Evidence and attribution of the enhanced land carbon sink," Nature Reviews Earth & Environment 4, 518-534 (2023).
4.
Journal Article
K. Winkler, Hui Yang, R. Ganzenmüller, R. Fuchs, G. Ceccherini, Gregory Duveiller, G. Grassi, Julia Pongratz, Ana Bastos, A. Shvidenko, A. Araza, M. Herold, J.-P. Wigneron, and P. Ciais, "Changes in land use and management led to a decline in Eastern Europe's terrestrial carbon sink," Communications Earth & Environment 4, 237 (2023).
5.
Journal Article
Ana Bastos, Sebastian Sippel, Dorothea Frank, Miguel D. Mahecha, Sönke Zaehle, Jakob Zscheischler, and Markus Reichstein, "A joint framework for studying compound ecoclimatic events," Nature Reviews Earth & Environment 4, 333-350 (2023).
Show more