November 2022
We welcome Sinikka back from parental leave, and she'll continure her wrok on lysimeter and connection of it to eddy covariance data. The group aslo has a new member, Laura, joined us in November as a student assistant. In January 2023, she'll officially start her PhD working on controls of multi-scale CO2 fluxes at a savanna ecosytem.
July 2022
Heatwave at our Majadas de Tiétar research station
The site has been consistently getting >40 ºC during daytime for more than a week. Trees manage to stay green due to better access to deeper water sources compared to grasses, which are dried out. Our ecosystem-scale flux measurements can't see any photosynthesis happening during daytime, which is mainly caused by stomatal closure for water conservation.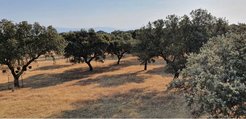 May 2022
The group has a new group leader!
To continue and re-design the successful research group Biosphere-Atmosphere Interactions and Experimentation previously led by Dr. Mirco Migliavacca (currently at the European Commission's Joint Research Centre) and Dr. Tarek El-Madany, Dr. Sung-Ching Lee joined the group as a new group leader. The new group will continue running the existing research site at Majadas de Tiétar, a semi-arid tree-grass ecosystem, and hence better understand the relevant understudied and unknown processes for dryland ecosystems.

Besides this, the new group has great interest in establishing coastal wetland ("Blue Carbon") research in Germany, particularly in the Wadden Sea area. Unlike upland ecosystems, the exchanges between coastal ecosystems and the atmosphere are not only controlled by bio-meteorological variables but regulated by unique features such as salinity, tidal movements, and wind advections.

To reflect the new directions, the name of the group has been changed from Biosphere-Atmosphere Interactions and Experimentation (BAIE) to Eco-Meteorology (Eco-Met).
January 2022
The BAIE group wishes a happy new year to everyone.
Our year started directly with a field campaign. Tarek is currently in Majadas together with people from Freiland to finish the installation of new soil respiration chambers, check our Sap-flow sensors and dendrometers and overall maintenance tasks. Cold times also in Majadas as the pictures show that he is sending. Sure we get some hoarfrost measurements from our lysimeters this year :).