Nominations sought for the position of Director at the Max Planck Institute for Biogeochemistry
The Max Planck Institute for Biogeochemistry in Jena, Germany, expects to have an opening for a director and scientific member of the Max Planck Society (MPG) in the general field of ecosystem ecology and biogeochemical cycles in the Earth System and related areas.
Research at the MPI for Biogeochemistry is dedicated to the study of global biogeochemical cycles describing the interactions between the biosphere, the atmosphere, the geosphere and the entire climate system. We aim to better understand how living organisms - including humans - exchange basic resources such as water, carbon, nutrients, and energy with their environment and how this affects ecosystems and climate at regional to global scales. We specifically seek to strengthen our expertise by using and further developing novel observational approaches, including but not limited to laboratory, field or atmospheric studies and/or methods to combine field-based and remote-sensing applications.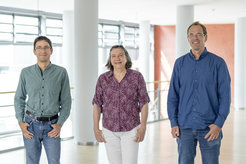 Max Planck Directors are international leaders in their respective field, pursue an ambitious research agenda within their departments, and lead the institute jointly with their director colleagues. Directors enjoy academic freedom and benefit from a diverse, international, excellent research environment, outstanding infrastructure, and long-term scientific funding.
The Max Planck Society seeks to achieve gender equality and diversity, and is particularly interested in appointing excellent women scientists. Please send nominations of suitable candidates, including rising stars, to the institute's Managing Director, Prof. Dr. Sönke Zaehle (szaehle@bgc-jena.mpg.de). Self-nominations are welcome. All nominations will be treated confidentially.