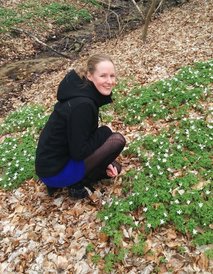 © Martijn Pallandt
Marleen Pallandt, MSc.
Doctoral Researcher
Department Biogeochemical Integration (BGI)
Soil Biogeochemistry
Terrestrial Biosphere Modelling (TBM)
Intern. Max Planck Research School for Global Biogeochemical Cycles (IMPRS-gBGC)
Main Focus
terrestrial C & water cycle
process-based terrestrial biosphere models
remote sensing of vegetation
About me
My background is a mix of vegetation ecology (BSc.degree), GIS & remote sensing (MSc. degree) and terrestrial biosphere modelling. Before joining the institute, I gained experience with ecophysiology and modelling the terrestrial carbon & water cycle by working with a global dynamic vegetation model (LPJ-GUESS) at Wageningen University for several years.
PhD project
Within the TBM research group, the QUINCY model (Thum et al., 2019) was developed. QUINCY is a new general terrestrial biosphere model which addresses the multiway interactions of carbon, nitrogen, phosphorus and water cycles on a global scale. Its brand new soil model (JSM, Yu et al., 2020) is a vertically explicit, mechanistic microbial decomposition model. My PhD project focusses on modelling the interactions between the water cycle and soil organic matter decomposition. Within the framework of the MOCABORS project, a large part of my work will be aimed at modelling moisture dynamics and carbon sequestration in boreal soils.
Curriculum Vitae
Since April 2018: PhD candidate at MPI BGC Jena
Oct 2017 - March 2018: Guest researcher at MPI-BGC Jena
Jan 2017 - Sept 2017: GIS information specialist at Provincie Utrecht (government)
2010 - 2015: Researcher at Wageningen university, dpt. Earth System Science & Climate Change
2010: MSc. GIS & remote sensing, Wageningen University. Thesis title: "Possibilities of hyperspectral remote sensing for monitoring the structure and functioning of habitat types in a heathland ecosystem"
2008: BSc. Biology, Wageningen University. Specialization in vegetation ecology