ATTO at Berlin Science Week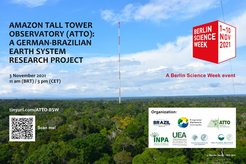 At the Berlin Science Week international scientists and their organisations share insights, challenges and future visions on cutting-edge research. In this context, the Brazilian Embassy in Berlin and the ATTO project will host an event about the project's multidisciplinary research in the Amazon rainforest.
The event on November 3, 3 – 6:30 pm is open to the public and will take place at the Brazilian Embassy as well as online. Registration is required.
International ATTO scientists from both Germany and Brazil will give guests and online viewers an overview on ATTO research, share the most exciting recent findings, and give a glimpse into future research topics. This will include many diverse aspects, e.g. the transport of Saharan dust across the Atlantic, the flying rivers of the Amazon, survival strategies of rainforest plants in a changing climate, and trends in greenhouse gas emissions.