What we know about climate today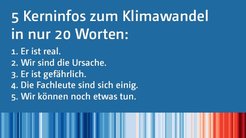 How we can take consistent action on climate protection is the subject of controversial debate. Indispensable for this is a well-founded fact base. Six organizations, including the German Climate Consortium with the participation of the Max Planck Institute for Biogeochemistry, have therefore published a paper on what is now undisputed knowledge in climate research - from its scientific basis, the consequences in Germany and around the world, to the goals agreed in Paris.
The paper (in German language) succinctly proves in understandable language that the current global warming is a fact and human action is the main cause. Despite 30 years of international climate policy, more and more greenhouse gases continue to accumulate in the atmosphere and exacerbate climate change. What is needed are lasting and profound structural changes in all sectors of society - from the energy system to land use to infrastructure.
(Adapted from a DKK news)