BGC scientists evaluate environmental developments for Earth Day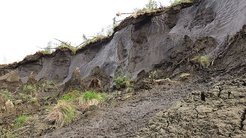 On the occasion of Earth Day on 22 April 2019, the Max Planck Society conducted interviews with scientists from various disciplines on the developments on our planet. Mathias Göckede and Sönke Zaehle both group leaders at the Max Planck Institute for Biogeochemistry, comment on the challenges that threaten our natural resources and the climate.
Mathias Göckede reports about the "Permafrost bogs - sinking in a warmer world":
Climate change is changing many ecosystems, for example the Arctic permafrost could partly thaw. Such changess in turn affect the balances of greenhouse gases released or bound in these areas.
Sönke Zaehle deals with "Nitrogen fixation: from pollution to recycling":
Nitrogen compounds in air and water harm human health and endanger ecosystems. What are the consequences of emissions and what measures can be taken to prevent them?
You will find the full interviews (in German language only) under the following links: