Flora Incognita honored with special prize at Thuringian Environmental Award
The Thuringian Environmental Prize, awarded by the Ministry for the Environment, Energy and Nature Conservation, recognizes the commitment for a habitable environment and healthy nature. In Thuringia, the prize is awarded for outstanding achievements and dedication to environmental protection that contribute to ecological improvements in the context of sustainable development.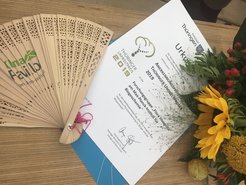 The high-ranking, 12-member jury selected 2 special prizes in addition to the 3 prize winners from outside academic research. The Flora Incognita research group of the Max Planck Institute for Biogeochemistry (MPI-BGC) was honored with this prize for its app for plant identification.
Dr. Jana Wäldchen, head of the research group at MPI-BGC, together with Prof. (JP) Dr. Patrick Mäder, TU Ilmenau, accepted the award from Minister Anja Siegesmund in the Jena Climate Pavillon. "After almost 5 years of intensive development work, we have created a widely used and popularly accepted app for automatic plant identification," says Patrick Mäder, "but we want to continue to make continuous improvements for the users."
"In the long run, we as researchers can use the data from the Flora Incognita App to make many other decipherings: When do which species bloom? How strongly do the traits of the individual plants vary? What is the relationship to climate change and land use patterns?" emphasized Jana Wäldchen.