Joining forces for science: JenaVersum network founded
Network JenaVersum founded
More than 20 partners from science, business and the city have joined forces to form the "JenaVersum" network. The aim is to promote cooperation in research at the site, to raise the profile of the science and business region internationally and to strengthen the dialog with society.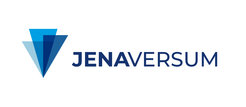 Close cooperation between science, business and the city has a long tradition in Jena. With the founding of JenaVersum e.V., a new chapter in this successful history of cooperation is being started. "As a university with traditionally close ties to the city and all resident partners in the research landscape, it is of great concern to us to continue to cultivate this network and to raise our cooperation to a new level," says Prof. Dr. Walter Rosenthal, President of the University of Jena and also Chairman of the Board of the JenaVersum association. "The network is a place for exchange and at the same time steps up to make the excellent research and development at the location even better known internationally."
JenaVersum connects the Friedrich Schiller University, the Ernst Abbe University of Applied Sciences, the University Hospital as well as non-university research institutions and foundations, partners from the city and research-related companies.
The focus of JenaVersum's work is:
making Jena's attractive research landscape even better known on an international level and attracting talent to the region,
strengthen the exchange on research priorities and initiatives and support the coordinated use of existing research infrastructure,
promote the dialog between science and society, and continue to develop of the location.
The implementation of these ambitious goals will only succeed together. "Interdisciplinarity and cooperation require a common language and trust among the partners involved - traits that already characterize the university city of Jena," emphasizes Prof. Dr. Jürgen Popp, scientific director of the Leibniz IPHT and vice chairman of the association.
The work of JenaVersum will be launched in the coming year with future workshops. "We want to exchange ideas at eye level, discover previously unused potential and make plans together," says Dr. Dana Strauß, head of the JenaVersum staff unit at the university and managing director of the association. Interested parties from the member institutions are cordially invited to contribute their ideas for the network.