Award ceremony: Gottfried Wilhelm Leibniz Prizes 2020, prize winner Markus Reichstein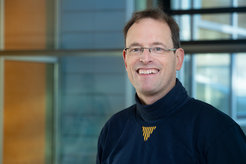 Our Max Planck Director and Head of the Department of Biogeochemical Integration, Prof. Markus Reichstein, was awarded the Gottfried Wilhelm Leibniz Prize 2020 of the German Research Foundation (DFG) in December 2019. With this research award, the highest endowed research prize in Germany with 2.5 million euros, the DFG honors the geoecologist for his scientific achievements in data-driven research on the interactions between climate and biosphere.

Due to the corona pandemic, the awarding of the prize by the DFG was postponed several times. Today, November 9 2020, the ceremony for all awardees was held in a video conference under the leadership of DFG President Katja Becker. Greetings were given by the Federal Minister of Education and Research, Anja Karliczek, and by Konrad Wolf as Deputy Chairman of the Joint Science Conference (GWK).
Portrait of Gottfried Wilhelm Leibniz Prize Winner 2020 Markus Reichstein
The Gottfried Wilhelm Leibniz Prize is awarded to Markus Reichstein for his contributions in data-driven research on the climate-biosphere nexus and, in particular, on the interaction of terrestrial carbon and water cycles.
[Video in German]
https://www.youtube.com/watch?v=WzVYboCd3J8
The renowned prize, which is considered the most important research promotion prize in Germany, was awarded to ten scientists, including four directors from Max Planck Institutes. The prize, which has been awarded since 1985, aims to improve the working conditions of outstanding scientists, expand their research opportunities and relieve them of administrative work. It is endowed with up to 2.5 million euros for each prize winner.

Film recordings of the award ceremony (Laudationes, photo films of the individual award winners) can be viewed from 5 pm on the DFG's YouTube channel (see below).
Presenting the Gottfried Wilhelm Leibniz Prizes 2020
On Monday, November 9, 2020, the Deutsche Forschungsgemeinschaft (DFG, German Research Foundation) awarded the Gottfried Wilhelm Leibniz Prizes 2020 to two female scientists and eight male scientists in virtual form.
[Video in German]
https://www.youtube.com/watch?v=SvQC0O401aQ