Sönke Zaehle new Managing Director
As of September 1, 2022, Prof. Susan Trumbore has handed over the golden steering wheel to Prof. Sönke Zaehle, who will then be Managing Director (GfD) for the next two years.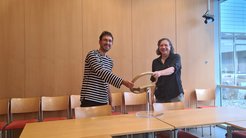 The MPI for Biogeochemistry is scientifically and administratively under the leadership of the three Department Directors. For a period of usually two years, the Managing Director takes over the leadership of our institute, implements the decisions of the directorate and manages the daily business. This is celebrated symbolically with the handing over of the golden steering wheel. The GfD is supported by the Head of Administration and the Research Coordinator as well as the advising "Scientific Executive Committee", SEC for short.