Prolongation of our graduate school
The joint "International Max Planck Research School for global Biogeochemical Cycles" IMPRS-gBGC of the Max Planck Institute for Biogeochemistry and the Friedrich Schiller University Jena will continue to be funded. After excellent review results, the Max Planck Society now officially announced that the program will be funded for another six years.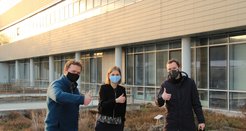 Last summer, the evaluation of the Graduate School took place under difficult conditions. Due to the Corona pandemic, the review had to be moved to the digital room instead of welcoming the reviewers to the institute as in the past. Developing this novel concept posed a number of challenges for the responsible persons. But thanks to intensive preparations and countless technical tests, everything went like clockwork. The coordinators and doctoral students were able to convince the reviewers of their excellent work in the recent years, and thus, they secured the follow-up funding.
Now we are moving full steam ahead into the next funding period and at the same time into a new call for proposals. Twelve exciting doctoral projects are currently being advertised in the IMPRS-gBGC. Interested graduates can still apply until 28 February 2021. The selection symposium will take place in May.
Currently, 21 doctoral students are funded by the IMPRS core budget and five by a scholarship from the German Academic Exchange Service (DAAD). In addition, 43 doctoral students, most of whom are funded by third-party funds, are undergoing the IMPRS training programme. The graduate school is characterized by diversity and internationality. At present, about two thirds of the doctoral students come from 25 different nations.
In addition to an intensive supervision of the young researchers by scientists from the Max Planck Institute for Biogeochemistry and the FSU Jena, the doctoral training includes subject-specific further training, the acquisition of skills for successful career planning in research, and a stay abroad lasting several months.
"We hope that, despite the ongoing pandemic, many international young candidates will apply," says Stefanie Burkert, who is coordinating the graduate school as a parental leave replacement. "In the last nine months, we have been able to gain a lot of experience in bringing people from all over the world safely to Jena and enabling them to start in their new country despite of the restrictions. It's certainly not an optimal situation, but we're making the best of it."
With the extension, the intensive and successful cooperation with the Friedrich Schiller University Jena is financially secured until 2028. "We are very pleased about the high recognition of the graduate school by the Max Planck Society" says Prof Gerd Gleixner, spokesperson of the IMPRS-gBGC. "The follow-up funding enables us, together with the university, to train further young talents in Earth system research in the best possible way and at an international level."