Dr. Henrik Hartmann heads the new institute for forest conservation at the Julius Kühn Institute
This press release was taken from the Julius Kühn Institute.

With the hiring of Dr. Henrik Hartmann as Institute Director on December 1, 2022, the newly established Institute for Forest Conservation at the Julius Kühn Institute (JKI) in Quedlinburg will begin its work. It is the youngest of 18 institutes under the umbrella of the Federal Research Institute for Cultivated Plants. By creating its own forest protection institute, the Federal Ministry of Food and Agriculture (BMEL) is responding to the increased need for advice on protecting forests from the effects of climate change and safeguarding forest ecosystems.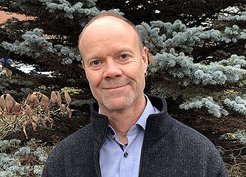 Since 2008, a JKI working group has been working on current issues relating to forest pests and diseases and integrated pest management in forests. Forest protection research was already conducted by the Federal Biological Research Centre for Agriculture and Forestry (BBA) in Braunschweig, a predecessor institution of the JKI. The new institute director now wants to expand this research, with a focus on sustainable forest conservation. "I find ideal conditions for this here at the site, with the densely forested Harz Mountains on our doorstep and a lot of forestry expertise," explains Henrik Hartmann. The forest is a very complex ecosystem that has to fulfill many functions at the same time - from CO2 sink to wood supplier, from biodiversity to local recreation area. "Conflicts of interest are inevitable, but everyone wants to preserve the forest and protect the habitat," Hartmann continues.
The full press release Pressemitteilung (in German only) is available on the webpage of Julius-Kühn-Institut