"Sonja Bernadotte Award for Nature Education" 2023 goes to Flora Incognita
The plant identification app Flora Incognita receives this year's Sonja Bernadotte Award for its importance in nature education for all age groups and for its high scientific standards and usefulness.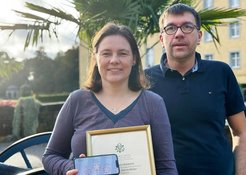 The "Sonja Bernadotte Prize for Ways to Nature Education" is awarded annually by the German Horticultural Society 1822 e.V. (DGG) and is intended as an award for outstanding achievements for ways to nature education.
The prize is intended to raise awareness of the importance of nature education and the experience of nature, to strengthen commitment to nature education and to provide financial support for efforts in this direction. The Sonja Bernadotte Prize in 2023 will be awarded to the plant identification app Flora Incognita. The Board of Trustees based its decision on the fact that "Germany's most popular plant identification app is not only appreciated and used by millions of laypeople, but is now also used and recommended by botanists." The explanation for the selection particularly emphasized its high scientific standards and its importance as an interdisciplinary citizen science project. "It is an excellent example for the meaningful and profitable use of AI, for the democratization of knowledge and for modern "ways of nature education", both in formal education of children, youth and students and for informal adult education."
Dr. Jana Wäldchen from the Max Planck Institute for Biogeochemistry Jena and Prof. Patrick Mäder from the Ilmenau University of Technology received the award on October 20, 2023 in Jüchen at Schloss Dyck.