Rene Orth appointed to the Young Academy of Leopoldina and BBAW
The Young Academy is the world's first academy for distinguished junior scientists. It opens up interdisciplinary and socially relevant spaces for outstanding young researchers from the German-speaking regions. The aim of the Young Academy is to give young scientists and artists the opportunity to actively and creatively contribute to the dialogue between science and society in addition to their own research.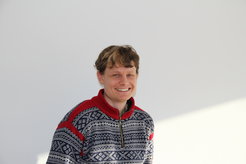 Every year 10 new members are elected for a period of five years. For the distinguished scientists and artists their five-year membership in the Young Academy begins with the traditional summer celebration. Not so in 2020: Due to the Covid-19 pandemic, the festive event had to be cancelled. For the first time, the ten new members were officially admitted to the Young Academy during a hybrid digital/presence plenary on 3 July. The commemorative event planned for this year on the occasion of the 20th anniversary of the Young Academy is to be made up for in 2021.

"I am very pleased to be accepted into the Young Academy," confirms Dr. Rene Orth, who, with his Emmy Noether junior research group in Prof. Reichstein's department, is researching the exchange processes between energy, water and carbon in connection with climate change. "Dialogue with society plays a particularly important role in our socially highly relevant field of research, and I look forward to advancing this dialogue within the framework of the Young Academy," Orth continues.

Each of the members elected for five years has access to a personal budget and the central research budget. With this money, members can implement joint scientific projects such as workshops, panel discussions or symposia. Over the next five years, the new members will be able to organize themselves in cooperation with the other 40 colleagues in working groups on topics such as artificial intelligence, sustainability, or science policy.

The Young Academy is organized by the Berlin-Brandenburg Academy of Sciences (BBAW) and the Academy of Natural Scientists Leopoldina.