Director Sönke Zaehle appointed Honorary Professor at Friedrich Schiller University
Walter Rosenthal, President of FSU, warmly welcomed Sönke Zaehle as a new honorary professor of FSU Jena in a meeting today.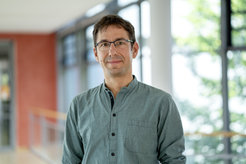 In a meeting with the president of Friedrich Schiller University Jena (FSU) today, Max Planck director Sönke Zaehle had been officially appointed Honorary Professor. Walter Rosenthal, president of FSU, warmly welcomed the new professor, who has been teaching at FSU already since 2011, and is a long-term active member of the IMPRS faculty. "This is another important step towards a closer collaboration between the MPI for Biogeochemistry and the university" explains Sönke Zaehle, who is looking forward to explore and deepen the relationships with the Friedrich Schiller university. Prof. Zaehle's inauguration lecture at FSU is postponed to the summer term, according to the current Corona precautions.
Prof. Zaehle had joined MPI-BGC as a PostDoc in 2008 and progressed to group leader with several awards, including the Heinz Maier-Leibnitz Preis of DFG (2014) and an ERC consolidator grant (2015). In 2020, Prof. Zaehle was appointed by the Max Planck Society as new Director of the Biogeochemical Signals (BSI) department.