Biodiversity in forests increases productivity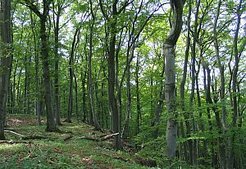 In a worldwide study, published today in the journal 'Science", scientists investigated the influence of species diversity on the productivity of natural forests. In total, data was collected from more than 770,000 plots across 44 countries and territories. The study took into account 8,737 tree species of the most diverse forest ecosystems, from mangroves over tropical moist forests to north and central European needle and deciduous forests, tundra and dry savannahs up to Mediterranean natural forests. Results show that species loss leads to a massive cut in forest productivity. Sustainable managed forests with lower species richness can have a high productivity though.
The world's forests constitute the most varied and diverse terrestrial ecosystems and are not only home to thousands of plant species, animals, and micro-organisms but also provide people with many goods and services. But deforestation, forest degradation, and climate change lead to many alterations including species loss. Although the preservation of the tree stock and sustainable forest management have been the subject of much discussion and have been promoted through environmental measures across the globe, the general decline in species, along with its serious consequences, continues, particularly in the tropics and subtropics. The study published in the current issue of "Science" illustrates how the global decline in biodiversity is accompanied by a decline in timber growth in natural forests.
The research team from 90 different institutions, coordinated by Jingjing Liang (first author), Peter B. Reich, and Thomas W. Crowther, analyzed the data from long-term experimental areas comparing the number of tree species with the amount of wood gain. "The results match those found in other ecosystems such as grasslands, or evaluated using other methods, including small-scale experiments. "Such an extensive investigation of forests in different regions of the world is unique." says co-author Professor Michael Scherer-Lorenzen of Albert-Ludwigs-University Freiburg who oversees a large biodiversity experiment with trees in Thuringia (BioTree). "There seems to be a general connection between plant diversity and growth of biomass. In this study it means that if the number of tree species is cut in half, the wood yield decreases of about ten to fifteen per cent." Scherer-Lorenzen explains. Together with colleagues of a European joint research project he contributed with comprehensive data from Finland, Poland, Romania, Germany, Italy, and Spain.
The results show the consequences of species loss in natural forests, "but despite this, the study does not account for the influence of sustainable forest management." co-author Professor Ernst-Detlef Schulze from Max Planck Institute for Biogeochemistry points out. "The study will therefore continue and look more closely at the productivity of managed forests." Schulze's own studies are part of the "Science" publication (see supplement fig. S3) and demonstrate that forest productivity in sustainably managed forests with lower species richness can actually be higher than in natural forests. In the context of a steadily rising demand of the wood industry this might become important.
The research, published on October 14th, 2016 in the journal Science, marks the first major accomplishment of the team, formally known as the Global Forest Biodiversity Initiative (GFBI). Established in 2016, GFBI is an international, interdisciplinary, and multi-stakeholder research collaborative that aims at better understanding broad-scale patterns and processes associated with the planet's four billion hectares of forested ecosystems.
Publikation:
Liang, J., Crowther, TW., Picard, N., Wiser, S., Zhou, M., Alberti, G., Schulze, E.-D., McGuire, A.D., Bozzato, F., Pretzsch, H., de-Miguel, S., Paquette, A., Hérault, B., Scherer-Lorenzen, M., Barrett, C.B., Glick, H.B., Hengeveld, G.M., Nabuurs, G.J., Pfautsch, S., Viana, H., Vibrans, A.C., Ammer, C., Schall, P., Verbyla, D., Tchebakova, N., Fischer, M., Watson, J.V., Chen, H.Y.H., Lei, X., Schelhaas, M.-J., Lu, H., Gianelle, D., Parfenova, EI., Salas, C., Lee, E., Lee, B., Kim, HS, Bruelheide, H, Coomes, DA, Piotto, D, Sunderland, T, Schmid, B, Gourlet-Fleury, S, Sonké, B, Tavani, R., Zhu, J., Brandl, S., Vayreda, J., Kitahara, F., Searle, E.B., Neldner, V.J., Ngugi, M.R., Baraloto, B., Frizzera, L., Ba?azy, R., Oleksyn, J., Zawi?a-Nied?wiecki, T, Bouriaud, O, Bussotti, F, Finér, L, Jaroszewicz, B, Jucker, T, Valladares, V, Jago-dzinski, A.M., Peri, P.L., Gonmadje, C., Marthy, W., O'Brien, T., Martin, E.H., Marshall, AR, Rovero, F, Bitariho, R, Niklaus, PA, Alvarez-Loayza, P, Chamuya, N, Valencia, R, Mortier, F, Wortel, V., Engone-Obiang, N.L., Ferreira, L.V., Odeke, D.E., Vasquez, R.M., Lewis, S.L. and Reich, P.B. (2016): Positive Biodiversity–Productivity Relationship Predominant in Global Forests. Science.
DOI: 10.1126/science.aaf8957
Contact at Max Planck Institute for Biogeochemistry:
Prof. Dr. E.D. Schulze
Phone: +49 3641 57 6100
Email: dschulze@bgc-jena.mpg.de