Federal Minister Anja Karliczek visiting Beutenberg institutes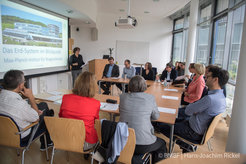 Joint press release of Leibniz Institute of Photonic Technology and Max Planck Institute for Biogeochemistry
Anja Karliczek, Federal Minister of Education and Research, was guest at the Beutenberg Campus Jena today (15.6.2018). Together with a delegation from the BMBF, she visited the Max Planck Institute for Biogeochemistry (MPI-BGC) and the Leibniz Institute of Photonic Technology (Leibniz-IPHT) to get an impression of the researcher's activities.
With the Beutenberg Campus, home to nine research institutes and more than 50 companies, Federal Minister Anja Karliczek has chosen an interdisciplinary research location for her visit. Following the slogan "Where Life Science meets Physics", the Campus combines research and development in the fields of biology, (natural) chemistry, environmental research and medicine with optics, photonics, and optical microsystems in a unique way.
At the Max Planck Institute for Biogeochemistry, the Federal Minister met with the directors of the institute and young scientists for exchange. On the basis of outstanding research projects, the high-ranking guests gained an impression of the range of Earth system research. The virtual expedition went from the Amazon rainforest to the permafrost regions of Antarctica and around the globe with satellites and measuring aircraft. In addition to scientific topics, the social relevance of current climate research and structural requirements such as gender equality and the promotion of young scientists were discussed.
After the welcome by the scientific director Prof. Jürgen Popp at Leibniz IPHT, the delegation gained an insight into current research activities in the field of optical health technologies. With exhibits scientists from the institute showed Minister Karliczek how they use light for the rapid detection of infectious agents and their antimicrobial resistance or for the examination of tissue, for example in cancer diagnostics. During the tour through the laboratories and the fiber drawing facility of the Leibniz IPHT, the Minister informed herself about the underlying spectroscopic methods and technologies for the production of optical fibers for endoscopic tissue diagnostics.
"The Beutenberg Campus is an example of how top research is advancing our country. Here in Jena, a location for research and technology companies of national and international importance has been established. This applies to climate and environmental research as well as to new medical technology. Research is being carried out here that can improve people's everyday lives - for example, how light can be used in the diagnosis and treatment of diseases. Science and industry, federal and state governments can achieve a great deal together if we work together in this way. I am particularly pleased that knowledge transfer is of great importance to the researchers," said Federal Research Minister Karliczek.