Honorary doctorate for Prof. Dr. Ernst-Detlef Schulze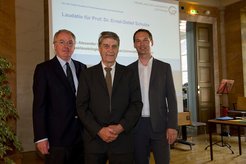 The Faculty of Forest Sciences and Forest Ecology of the Georg-August University of Göttingen awarded the honorary doctorate to Prof. Dr. Ernst-Detlef Schulze, founding director of the Max Planck Institute for Biogeochemistry, as part of its 150th anniversary celebration. The faculty honored her alumnus for his outstanding scientific achievements and his long-lasting support and cooperation.
In the 1960s Prof. Schulze studied at the Faculty of Forestry at the University of Göttingen, which was still in Hann. Münden at that time. After his diploma and a stay abroad in the USA, he completed his doctoral thesis in biology on the first carbon balance of a tree with his former lecturer Prof. Otto Lange, who was by then teaching at the University of Würzburg.
After gaining his doctorate and habilitation, he was appointed Germany's youngest professor in the field of plant ecology in 1975. A good 20 years later, in 1997, Prof. Schulze became one of the three founding directors of the new Max Planck Institute for Biogeochemistry in Jena. There he turned to global biogeochemical cycles with an emphasis on the carbon cycle. Schulze retired in 2009, but continues as Emeritus to research global forest ecosystems and to manage forests in Thuringia and Romania.
In the seventies, E.-D. Schulze investigated the new forest health problems that occurred at that time and founded a research association, the Bavarian Forest Toxicology Research Group. The results of this network showed that the novel forest dieback is caused by increased sulphur and nitrogen loads in the air, which damage the growth of the trees. To understand the complex interactions between atmosphere, plant and soil, it was necessary to investigate the processes in the entire ecosystem. The tree researcher Schulze became an ecosystem researcher.
In Jena, Prof. Schulze launched the world's largest biodiversity experiment - the
Jena Experiment
- together with the Friedrich Schiller University of Jena. He initiated long-term study areas, the
Biodiversity Exploratories
, and the first systematic experiment on forest diversity -
Biotree
. As usual in good forestry tradition, only future generations will be able to reap the full scientific fruits.
In the course of his research career, Prof. Schulze has received numerous awards and honors, including the German Environmental Prize and the Federal Cross of Merit 1st class.
However, as an alumnus of the Faculty of Forest Sciences at the University of Göttingen, Prof. Schulze did not yet hold a doctorate in forestry. The Faculty of Göttingen has now made up for this with the award of an honorary doctorate. The laudatory speech was given by Prof. Dr. Alexander Knohl from the Department of Bioclimatology at the Georg-August-Universität Göttingen, a former graduate and doctoral student of Prof. Schulze.