Max-Planck Fellowship for Professor Christian Wirth at MPI-BGC extended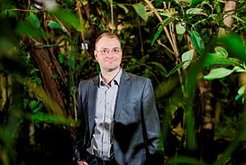 The Max Planck Society for the Advancement of Science (MPG) has approved the renowned Max Planck fellow programme for Leipzig-based biologist Professor Christian Wirth and extended it for a further five years. In this way, the MPG honours his outstanding scientific achievements in cooperation with scientists of the Max Planck Institute for Biogeochemistry, Jena. Professor Wirth, Managing Director of the German Centre for Integrative Biodiversity Research (iDiv) Halle-Jena-Leipzig, Professor for Functional Biodiversity Research, and Director of the Botanical Garden at Leipzig University, will continue to intensify and to consolidate the successful work with the Max Planck Institute, in particular on the global biodiversity database TRY. Further joint projects will deal with the ecosystem functioning of the species-rich Amazonian forests and the investigation of biodiversity effects by remote sensing.
With the Max Planck Fellowship programme, the Max Planck Society aims to strengthen the cooperation between its institutes and the universities. Prof. Wirth has achieved this in a special way at the Max Planck Institute for Biogeochemistry (MPI-BGC). "The success of the TRY database has exceeded all of our expectations and fundamentally changed ecological research," said Wirth. TRY (www.try-db.org) is a global database of plant traits that characterises key processes such as growth, distribution, establishment, and stress tolerance. The data are provided by researchers from all over the world. Coordinated by Dr. Jens Kattge and Dr. Gerhard Bönisch in the joint Jena working group "Functional Biogeography" at the MPI for Biogeochemistry, the data will be supervised and made available to the scientific community.
With 6.9 million entries for nearly half of all plant species (150,000 out of around 352,000 species), TRY is a rich source for numerous research questions. Among the 3,500 data users are vegetation scientists, evolutionary researchers, biogeographers, plant breeders, conservationists, and climate modellers. Together with his colleagues at MPI-BGC, Wirth has described the "phenome" (the possible trait space) of our planet's vegetation for the first time in his own research. He has shown that a high diversity of tree species in Europe's forests, especially in arid regions, increases ecosystem functions and helps to improve the predictions of Earth system models by describing global timber degradation rates. Trait databases are also needed to predict the impact of global species extinction on ecosystems. TRY is therefore an essential resource for the Biodiversity Centre iDiv.
Biodiversity research is also the focus of two further joint projects with the MPI-BGC. Together with Dr. Miguel Mahecha, Dr. Mirco Migliavacca and Prof. Markus Reichstein from the Department Biogeochemical Integration, remote sensing will be used to study the influence of plant diversity on ecosystem functions on a landscape scale. The effects of square-kilometre windthrows in the middle of the Amazon rainforest on biodiversity and the carbon cycle will be investigated in cooperation with Prof. Sue Trumbore and Dr. Daniel Marra from the Department Biogeochemical Processes.
Contacts:
Prof. Christian Wirth, Managing Director iDiv, Leipzig University,
+49 341 97-38591, cwirth@uni-leipzig.de
Prof. Susan Trumbore, Managing Director, Max Planck Institute for Biogeochemistry,
+49 3641-57-6110, trumbore@bgc-jena.mpg.de
Dr. Jens Kattge, Group Leader, Max Planck Institute for Biogeochemistry,
+49 3641-57-6226, jkattge@bgc-jena.mpg.de