"Climate sins could become very expensive"
This message was published by the Max Planck Society.

Nine Max Planck scientists traveled to the 27th World Climate Conference in Egypt. Among them was Dr. Carlos Sierra, group leader at the Max Planck Institute for Biogeochemistry in Jena. Tom Sparks, a lawyer at the Max Planck Institute for Comparative Public Law and International Law, explains in an interview which results give reason for hope and what tasks lie ahead for science.
The interview is availble only in German language so far.
Dr. Sparks, Sie konnten mit einer Delegation von Max-Planck-Wissenschaftlerinnen und -Wissenschaftlern die Verhandlungen beobachten. Welche Eindrücke haben Sie aus Sharm el Sheikh mitgenommen?
Gemischte Eindrücke würde ich sagen: inspirierend und frustrierend, hoffnungsvoll und enttäuschend zugleich.
Wie das?
Es ist zum einen inspirierend, so viele engagierte Menschen aus verschiedensten Bereichen zu treffen und sich auf den sogenannten "Side Events" oder "Pavillon Events" bei Vorträgen und auf Meetings auszutauschen. Zum anderen waren die Anspannung und die Vorbehalte gegen Ägypten als Gastgeber der COP immer zu spüren: Der Verhandlungsprozess war chaotisch und schlecht verwaltet und bis zuletzt fehlte das Vertrauen in die ägyptische Präsidentschaft. Lange sah es so aus, als würde keine Einigung erzielt werden. Außerhalb der Verhandlungen wurden vor allem die Themen Menschenrechte in Ägypten und die starke Überwachung von Aktivisten diskutiert. So waren Demonstrationen außerhalb des Tagungsgeländes strikt verboten.
Ihr Forschungsgebiet ist unter anderem die Haftung für Klimaschäden und -sünden. Welchen Einfluss hat ein Konferenzbesuch für Sie als Wissenschaftler?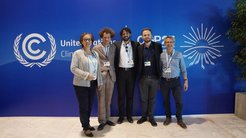 Ich profitiere vielfach. Ich untersuche Umweltklagen vor internationalen Gerichten. Dazu muss ich den Verhandlungsprozess gut verstehen, um besser einzuschätzen, wo die Stärken und Schwächen von aktuellen Rechtsverfahren liegen und welchen Effekt Klagen zum Klimaschutz haben. So sehe ich auch einen kleinen Erfolg für die Klimaklagen weltweit: In der Abschlusserklärung erkennen die Vertragsländer erstmals das Recht auf eine saubere, gesunde und nachhaltige Umwelt an. Das könnte auch für weitere Verfahren weltweit relevant werden.
Welche Rolle spielen Wissenschaftlerinnen und Wissenschaftler auf der Klimakonferenz?
Wissenschaftlerinnen und Wissenschaftler verhandeln nicht, daher haben sie keine formelle Funktion. Wir sind wie Lobbyisten der Industrie, Aktivistinnen und andere auf dem Status von "observants", Beobachtern. Wir verfolgen die Verhandlungen mit und tauschen uns auf den Events neben den eigentlichen Verhandlungen aus.
Das vollständige Interview finden Sie auf der Webseite der Max-Planck-Gesellschaft.