Scientists for one day: primary school children on excursion with Flora Incognita
A meadow is more than just a green carpet of grass. Today, 22 children from the Jenaplan School came to this conclusion and used their summer vacation trip to make scientific discoveries. The school students between the ages of 7 and 11 went on an excursion around the building of the Max Planck Institute for Biogeochemistry at Beutenberg Campus together with their tutors. Under the guidance of project team member Alice Deggelmann and prospective teacher Richard Niemann, they learned how to identify wild plants in a playful way.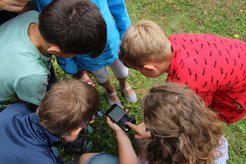 "It only takes three things to get kids and young people excited about botany: a plant, a smartphone and a good mood," says Alice Deggelmann. "With the Flora Incognita App you can easily identify plants and then collect them digitally. The children had developed the instinct to recognize new species in the meadow very quickly, and then they were eager to find more!
The children learned the basics of plant identification at three different stations. Using the various forms of tree leaves, the traditional plant identification was explained using these characteristics. Together with Mrs. Deggelmann, the children explored the Flora Incognita App on the provided smartphones and quickly determined the plants on the meadow themselves. Finally, each child was given its own peat pot with self-sown marigolds to take home. "We are happy to have given the children today a very mindful access to our wild plants," reflects Richard Niemann.
The Flora Incognita App for identifying wild plants is a joint project of the Max Planck Institute for Biogeochemistry in Jena and TU Ilmenau. It is available free of charge for Android and iOS.