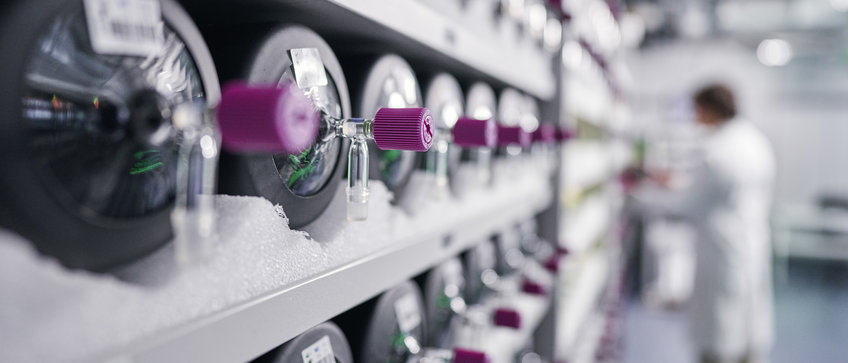 Flask laboratory
Analysis of air samples
At about half of the ICOS atmospheric stations, air samples are regularly filled into glass containers (flasks) and sent to the central ICOS flask laboratory for analysis. This serves two purposes:
as comparison measurement of the laboratory to the continuous observations at the ICOS station (quality control for early detection of potential problems).

for the investigation of air components that cannot be measured directly at the stations.
Different sampling strategies are appropriate to achieve each of these two objectives.
comparisons of flask air sample measurement data to continuous measurements at stations are most reliable when there is no large variability in the air composition during the sampling. Therefore, the appropriate meteorological conditions are selected for such sampling events.

measurement of some air constituents is valuable only on selected samples. For example, for radiocarbon studies of CO2, which are used to determine the fraction of CO2 originating from fossil fuel combustion, only samples that have elevated fractions of CO2 from combustion processes are suitable. Appropriate samples typically contain simultaneously elevated levels of carbon monoxide (CO). This is measured continuously at ICOS stations and can be used to identify times for sample collections with meaningful signals for radiocarbon studies.
Air Sampling
In order to obtain informative measurement data from the monitoring stations through air sampling, samples need be taken in a targeted manner. In addition, the air must not be altered during the sampling process, but must retain the real air composition at the collection site. To ensure these demands, automated air sampling devices (flask sampler) were developed in our laboratory and produced for the ICOS network. The quality of the measurement results also critically depends on the glass containers (flasks) being leak tight and undamaged. We therefore undertake a major effort to ensure that all flasks in use are in proper condition.
Analysis of flask samples
Various detection techniques are used for high-precision measurement of different components in air samples. The concentrations of trace gases are determined by gas chromatography, the isotopic composition of CO2 and the ratio of oxygen to nitrogen in the air sample by mass spectrometry.
Measurement of the O2/N2 ratio in air
Measurement of trace gas concentrations