Surprise from the jungle soil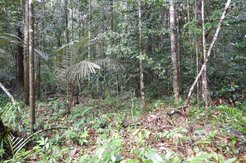 The Amazon rainforest is the largest forest on earth. Its trees emit huge amounts of volatile substances that influence chemical composition of air. Some of these substances are the so-called sesquiterpenes, very reactive chemicals that can rapidly consume ozone and produce particles. Until recently scientists studying the air composition in forests were primarily focused on trees and plants.
An international team has now revealed, that the soil emissions of sesquiterpenes can be, under certain conditions, just as strong as those from the canopy. The study results have been published recently in the journal Nature Communications. This discovery shows that the emissions from soil to air are an important missing component of the Amazonian ecosystem.
"In previous studies, we found an ozone gradient in the Amazon forest with low levels near the soil. We thus suspected that an important source of reactive molecules removing the ozone was missing," said Jonathan Williams, group leader at the Max Planck Institute for Chemistry.
Sesquiterpenes react rapidly with ozone and can therefore impact the self-cleaning capacity of the atmosphere – a chemical process, whereby pollutants are removed from the air. The soil emissions are responsible for the depletion of about 50 percent of the ozone close to the forest floor which slows down the cleaning processes and can help pollinating insects find flowers via their scent. The scientists first collected soil samples from several different sites in the Amazon jungle. Then under controlled laboratory conditions, they added water to simulate rain, and watched for volatile emissions as the soil dried out. As the drying progressed, conditions in the soil changed to suit different communities of soil microbes, each of which emitted different characteristic chemicals including sesquiterpenes.
"We found very similar patterns of sesquiterpene emissions and microbial activity in the soil," says Thomas Behrendt, soil scientist at the Max Planck Institute for Biogeochemistry in Jena. Based on the experimental results, Stratos Bourtsoukidis, an atmospheric chemist at the Max Planck Institute for Chemistry, developed a precise numerical model to predict the fluxes of sesquiterpenes between the soil and the atmosphere. When simulating the daily fluxes from a very common tropical soil and the canopy over a period of two years, Bourtsoukidis observed that sesquiterpene emissions from the soils in the dry season were at certain times as strong as canopy emissions. The study results show how important the connection between soil microbes and atmospheric chemistry is.
Original publication
Strong sesquiterpene emissions from Amazonian soils
E. Bourtsoukidis, T. Behrendt, A.M. Yañez-Serrano, H. Hellén, E. Diamantopoulos, E. Catão, K. Ash-worth, A. Pozzer, C.A. Quesada, D.L. Martins, M. Sá, A. Araujo, J. Brito, P. Artaxo, J. Kesselmeier, J. Lelieveld & J. Williams
Nature Communications
, 8 June 2018, DOI: 10.1038/s41467-018-04658-y
Contact
Dr. Thomas Behrendt
Max Planck Institute for Biogeochemistry, Jena, Germany
Telephone: +49-3641 57-6105
Email: tbehr@bgc-jena.mpg.de
Dr. Iris Möbius
Press & PR ATTO
Max Planck Institute for Biogeochemistry, Jena, Germany
Telephone: +49-3641 57 6371
Email: iris.moebius@bgc-jena.mpg.de