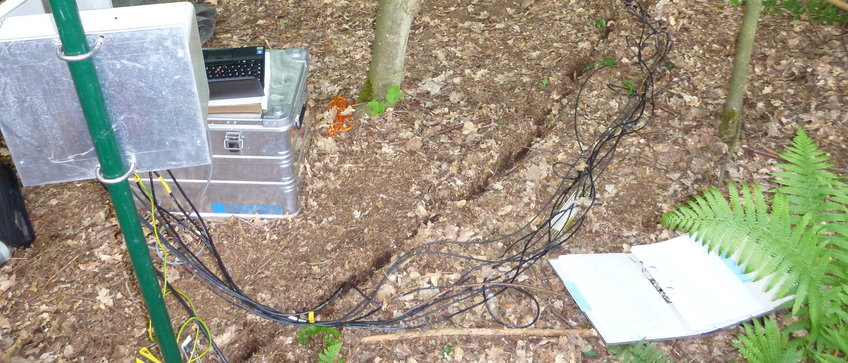 Thann (Germany)
Meterological measurements and soil water investigations
Soil water measurements in a young mixed deciduous forest near Thann, where a small meteorological measuring station is set up concomitantly
Description & History
In May 2012 a small meteorological station was established near the village of Thann. The station is equipped with a Vaisala Weather Transmitter WXT52, which is a small lightweight compact multi-sensor instrument capable of measuring the main weather parameters: Air temperature and relative humidity, air pressure, wind speed and direction, precipitation (rain, its intensity and even hail). All data are logged and sent to Jena via modem.
The weather station serves as a source for additional information on soil water measurements in a forest area near the station. These investigations are carried out by the Gerd Gleixner Group.
Location
Mixed deciduous forest
Thann WXT
Latitude 49.33
Longitude 12.47
Elevation 538 m a.s.l.
Thann SMT
Latitude 49.32
Longitude 12.46
Elevation 497 m a.s.l.
Overview
Since May 2012
Meteorology
Soil moisture
Soil Temperature
Variables & Instruments
Thann WXT
Meteorology
Air temperature and relative humidity, barometric pressure, wind speed and direction, precipitation - Weather Transmitter WXT, Vaisala
Photosynthetically active radiation - PAR sensor SKP 215/S, UP GmbH
Data acquisition
Meteorological data - Data logger CR10X, Campbell Scientific
Thann SMT
Soil conditions
Soil temperature in 2 profiles with 7 depths - Soil temperature sensor PT100, DIY
Soil moisture in 4 depths - Theta soil moisture probe ML-2x, Delta-T
Soil water - Gleixner Group
Data logging
Soil data - Data logger CR10X, Campbell Scientific