- * Mission Statement *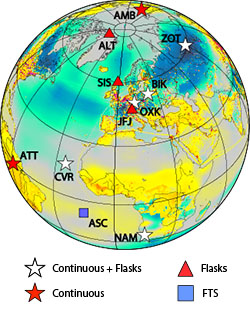 Biogeochemical cycles are represented in the atmosphere by several important greenhouse gases, such as carbon dioxide, methane and nitrous oxide. In the Department of Biogeochemical Systems we develop methods to measure these gases in situ and by remote sensing, we expand the measurement network to remote hot-spot regions such as Siberia and Amazonia, and we develop and apply numerical models to quantify the large-scale sources and sinks of the greenhouse gases.
- * NEW PUBLICATIONS *
1
Reum, F., Gerbig, C., Lavric, J. V., Rella, C. W., Göckede, M. (2019). Correcting atmospheric CO2 and CH4 mole fractions obtained with Picarro analyzers for sensitivity of cavity pressure to water vapor.

Atmospheric Measurement Techniques,

12

(2), 1013-1027. doi:10.5194/amt-12-1013-2019.

2
Tian, H., Yang, J., Xu, R., Lu, C., Canadell, J. G., Davidson, E. A., Jackson, R. B., Arneth, A., Chang, J., Ciais, P., Gerber, S., Ito, A., Joos, F., Lienert, S., Messina, P., Olin, S., Pan, S., Peng, C., Saikawa, E., Thompson, R. L., Vuichard, N., Winiwarter, W., Zaehle, S., Zhang, B. (2019). Global soil nitrous oxide emissions since the preindustrial era estimated by an ensemble of terrestrial biosphere models: Magnitude, attribution, and uncertainty.

Global Change Biology,

25

(2), 640-659. doi:10.1111/gcb.14514.

3
Kwon, M. J., Jung, J. Y., Tripathi, B. M., Göckede, M., Lee, Y. K., Kim, M. (2019). Dynamics of microbial communities and CO2 and CH4 fluxes in the tundra ecosystems of the changing Arctic.

Journal of Microbiology,

57

. doi:10.1007/s12275-019-8661-2.

4
Schaller, J., Faucherre, S., Joss, H., Obst, M., Göckede, M., Planer-Friedrich, B., Peiffer, S., Gilfedder, B., Elberling, B. (2019). Silicon increases the phosphorus availability of Arctic soils.

Scientific Reports,

9

: 449. doi:10.1038/s41598-018-37104-6.

5
Jiang, M., Caldararu, S., Zaehle, S., Ellsworth, D. S., Medlyn, B. E. (2019). Towards a more physiological representation of vegetation phosphorus processes in land surface models.

New Phytologist

. doi:10.1111/nph.15688.

+ + + see all Department Publications + + +