- * Mission Statement *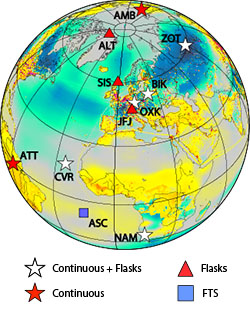 Biogeochemical cycles are represented in the atmosphere by several important greenhouse gases, such as carbon dioxide, methane and nitrous oxide. In the Department of Biogeochemical Systems we develop methods to measure these gases in situ and by remote sensing, we expand the measurement network to remote hot-spot regions such as Siberia and Amazonia, and we develop and apply numerical models to quantify the large-scale sources and sinks of the greenhouse gases.
- * NEW PUBLICATIONS *
1
Borsdorff, T., aan de Brugh, J., Schneider, A., Lorente, A., Birk, M., Wagner, G., Kivi, R., Hase, F., Feist, D. G., Sussmann, R., Rettinger, M., Wunch, D., Landgraf, J. (2019). Improving the TROPOMI CO data product: update of the spectroscopic database and destriping of single orbits.

Atmospheric Measurement Techniques,

12

(10), 5443-5455. doi:10.5194/amt-12-5443-2019.

2
Mäkelä, J., Knauer, J., Aurela, M., Black, A., Heimann, M., Kobayashi, H., Lohila, A., Mammarella, I., Margolis, H., Markkanen, T., Susiluoto, J., Thum, T., Viskari, T., Zaehle, S., Aalto, T. (2019). Parameter calibration and stomatal conductance formulation comparison for boreal forests with adaptive population importance sampler in the land surface model JSBACH.

Geoscientific Model Development,

12

(9), 4075-4098. doi:10.5194/gmd-12-4075-2019.

3
Bastos, A., Ciais, P., Chevallier, F., Rödenbeck, C., Ballantyne, A. P., Maignan, F., Yin, Y., Fernandez-Martinez, M., Friedlingstein, P., Peñuelas, J., Piao, S. L., Sitch, S., Smith, W. K., Wang, X., Zhu, Z., Haverd, V., Kato, E., Jain, A. K., Lienert, S., Lombardozzi, D., Nabel, J. E. M. S., Peylin, P., Poulter, B., Zhu, D. (2019). Contrasting effects of CO2 fertilisation, land-use change and warming on seasonal amplitude of northern hemisphere CO2 exchange.

Atmospheric Chemistry and Physics,

19

(19), 12361-12375. doi:10.5194/acp-19-12361-2019.

4
Zhao, X., Marshall, J., Hachinger, S., Gerbig, C., Chen, J. (2019). Analysis of total column CO2 and CH4 measurements in Berlin with WRF-GHG.

Atmospheric Chemistry and Physics,

19

(17), 11279-11302. doi:10.5194/acp-19-11279-2019.

5
Urban, A. V., Prokushkin, A. S., Korets, M. A., Panov, A. V., Gerbig, C., Heimann, M. (2019). Influence of the underlying surface on greenhouse gas concentrations in the atmosphere over Central Siberia.

Geography and natural resources,

3

, 32-40. doi:10.21782/GiPR0206-1619-2019-3(32-40).

+ + + see all Department Publications + + +