- * Mission Statement *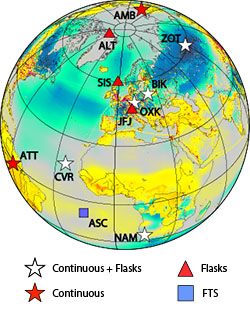 Biogeochemical cycles are represented in the atmosphere by several important greenhouse gases, such as carbon dioxide, methane and nitrous oxide. In the Department of Biogeochemical Systems we develop methods to measure these gases in situ and by remote sensing, we expand the measurement network to remote hot-spot regions such as Siberia and Amazonia, and we develop and apply numerical models to quantify the large-scale sources and sinks of the greenhouse gases.
- * NEW PUBLICATIONS *
1
Klausner, T., Mertens, M., Huntrieser, H., Galkowski, M., Kuhlmann, G., Baumann, R., Fiehn, A., Jöckel, P., Pühl, M., Roiger, A. (2020). Urban greenhouse gas emissions from the Berlin area: A case study using airborne CO2 and CH4 in situ observations in summer 2018.

Elementa: Science of the Anthropocene,

8

: 15. doi:10.1525/elementa.411.

2
Marcolla, B., Migliavacca, M., Rödenbeck, C., Cescatti, A. (2020). Patterns and trends of the dominant environmental controls of net biome productivity.

Biogeosciences,

17

(8), 2365-2379. doi:10.5194/bg-17-2365-2020.

3
Holanda, B. A., Pöhlker, M. L., Saturno, J., Sörgel, M., Ditas, J., Ditas, F., Wang, Q., Donth, T., Artaxo, P., Barbosa, H. M. J., Braga, R., Brito, J., Cheng, Y., Dollner, M., Franco, M. A., Kaiser, J., Klimach, T., Knote, C., Krüger, O. O., Fütterer, D., Lavric, J. V., Ma, N., Machado, L. A. T., Ming, J., Morais, F., Paulsen, H., Sauer, D., Schlager, H., Su, H., Weinzierl, B., Walser, A., Walter, D., Wendisch, M., Ziereis, H., Zöger, M., Pöschl, U., Andreae, M. O., Pöhlker, C. (2020). Influx of African biomass burning aerosol during the Amazonian dry season through layered transatlantic transport of black carbon-rich smoke.

Atmospheric Chemistry and Physics,

20

(8), 4757-4785. doi:10.5194/acp-20-4757-2020.

4
Nickl, A.-L., Mertens, M., Roiger, A., Fix, A., Amediek, A., Fiehn, A., Gerbig, C., Galkowski, M., Kerkweg, A., Klausner, T., Eckl, M., Jöckel, P. (2020). Hindcasting and forecasting of regional methane from coal mine emissions in the Upper Silesian Coal Basin using the online nested global regional chemistry–climate model MECO(n) (MESSy v2.53).

Geoscientific Model Development,

13

(4), 1925-1943. doi:10.5194/gmd-13-1925-2020.

5
Kunz, M., Lavric, J. V., Gasche, R., Gerbig, C., Grant, R. H., Koch, F.-T., Schumacher, M., Wolf, B., Zeeman, M. (2020). Surface flux estimates derived from UAS-based mole fraction measurements by means of a nocturnal boundary layer budget approach.

Atmospheric Measurement Techniques,

13

(4), 1671-1692. doi:10.5194/amt-13-1671-2020.

+ + + see all Department Publications + + +