- * Mission Statement *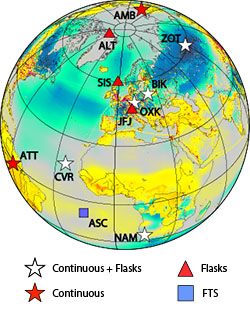 Biogeochemical cycles are represented in the atmosphere by several important greenhouse gases, such as carbon dioxide, methane and nitrous oxide. In the Department of Biogeochemical Systems we develop methods to measure these gases in situ and by remote sensing, we expand the measurement network to remote hot-spot regions such as Siberia and Amazonia, and we develop and apply numerical models to quantify the large-scale sources and sinks of the greenhouse gases.
- * NEW PUBLICATIONS *
1
Krautwurst, S., Gerilowski, K., Borchardt, J., Wildmann, N., Galkowski, M., Swolkien, J., Marshall, J., Fiehn, A., Roiger, A., Ruhtz, T., Gerbig, C., Necki, J., Burrows, J. P., Fix, A., Bovensmann, H. (2021). Quanti?cation of CH4 coal mining emissions in Upper Silesia by passive airborne remote sensing observations with the MAMAP instrument during CoMet.

Atmospheric Chemistry and Physics Discussions

. doi:10.5194/acp-2020-1014.

2
Delwiche, K. B., Knox, S. H., Malhotra, A., Fluet-Chouinard, E., McNicol, G., Feron, S., Ouyang, Z., Papale, D., et al. (2021). FLUXNET-CH4: A global, multi-ecosystem dataset and analysis of methane seasonality from freshwater wetlands.

Earth System Science Data Discussions

. doi:10.5194/essd-2020-307.

3
Park, S.-I., Yang, H. I., Park, H.-J., Seo, B.-S., Jeong, Y.-J., Lim, S.-S., Kwak, J.-H., Kim, H.-Y., Yoon, K.-S., Lee, S.-M., Choi, W.-J. (2021). Rice straw cover decreases soil erosion and sediment-bound C, N, and P losses but increases dissolved organic C export from upland maize fields as evidenced by delta13C.

Science of the Total Environment,

753

: 142053. doi:10.1016/j.scitotenv.2020.142053.
4
Wilzewski, J. S., Roiger, A., Strandgren, J., Landgraf, J., Feist, D. G., Velazco, V. A., Deutscher, N. M., Morino, I., Ohyama, H., Té, Y., Kivi, R., Warneke, T., Notholt, J., Dubey, M., Sussmann, R., Rettinger, M., Hase, F., Shiomi, K., Butz, A. (2020). Spectral sizing of a coarse-spectral-resolution satellite sensor for XCO2.

Atmospheric Measurement Techniques,

13

(2), 731-745. doi:10.5194/amt-13-731-2020.

5
Holanda, B. A., Pöhlker, M. L., Saturno, J., Sörgel, M., Ditas, J., Ditas, F., Wang, Q., Donth, T., Artaxo, P., Barbosa, H. M. J., Braga, R., Brito, J., Cheng, Y., Dollner, M., Franco, M. A., Kaiser, J., Klimach, T., Knote, C., Krüger, O. O., Fütterer, D., Lavric, J. V., Ma, N., Machado, L. A. T., Ming, J., Morais, F., Paulsen, H., Sauer, D., Schlager, H., Su, H., Weinzierl, B., Walser, A., Walter, D., Wendisch, M., Ziereis, H., Zöger, M., Pöschl, U., Andreae, M. O., Pöhlker, C. (2020). Influx of African biomass burning aerosol during the Amazonian dry season through layered transatlantic transport of black carbon-rich smoke.

Atmospheric Chemistry and Physics,

20

(8), 4757-4785. doi:10.5194/acp-20-4757-2020.

+ + + see all Department Publications + + +