- * Mission Statement *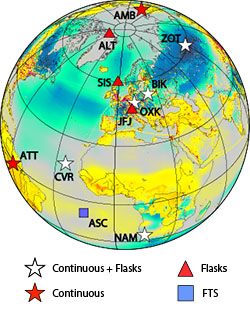 Biogeochemical cycles are represented in the atmosphere by several important greenhouse gases, such as carbon dioxide, methane and nitrous oxide. In the Department of Biogeochemical Systems we develop methods to measure these gases in situ and by remote sensing, we expand the measurement network to remote hot-spot regions such as Siberia and Amazonia, and we develop and apply numerical models to quantify the large-scale sources and sinks of the greenhouse gases.
- * NEW PUBLICATIONS *
1
Kountouris, P., Gerbig, C., Rödenbeck, C., Karstens, U., Koch, T. F., Heimann, M. (2018). Atmospheric CO2 inversions on the mesoscale using data-driven prior uncertainties: Quantification of the European terrestrial CO2 fluxes.

Atmospheric Chemistry and Physics,

18

(4), 3047-3064. doi:10.5194/acp-18-3047-2018.

2
Brunner, D., Kuhlmann, G., Marshall, J., Clement, V., Fuhrer, O., Broquet, G., Loscher, A., Meijer, Y. (2019). Accounting for the vertical distribution of emissions in atmospheric CO2 simulations.

Atmospheric Chemistry and Physics,

19

(7), 4541-4559. doi:10.5194/acp-19-4541-2019.

3
Ciais, P., Tan, J., Wang, X., Roedenbeck, C., Chevallier, F., Piao, S.-L., Moriarty, R., Broquet, G., Le Quéré, C., Canadell, J. G., Peng, S., Poulter, B., Liu, Z., Tans, P. (2019). Five decades of northern land carbon uptake revealed by the interhemispheric CO2 gradient.

Nature,

568

, 221-225. doi:10.1038/s41586-019-1078-6.

4
Schaller, C., Kittler, F., Foken, T., Göckede, M. (2019). Characterisation of short-term extreme methane fluxes related to non-turbulent mixing above an Arctic permafrost ecosystem.

Atmospheric Chemistry and Physics,

19

(6), 4041-4059. doi:10.5194/acp-19-4041-2019.

5
Knauer, J., Zaehle, S., Kauwe, M. G. D., Bahar, N. H. A., Evans, J. R., Medlyn, B. E., Reichstein, M., Werner, C. (2019). Effects of mesophyll conductance on vegetation responses to elevated CO2 concentrations in a land surface model.

Global Change Biology,

25

(5), 1820-1838. doi:10.1111/gcb.14604.

+ + + see all Department Publications + + +