- * Mission Statement *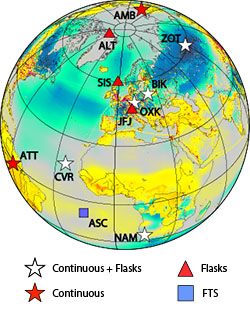 Biogeochemical cycles are represented in the atmosphere by several important greenhouse gases, such as carbon dioxide, methane and nitrous oxide. In the Department of Biogeochemical Systems we develop methods to measure these gases in situ and by remote sensing, we expand the measurement network to remote hot-spot regions such as Siberia and Amazonia, and we develop and apply numerical models to quantify the large-scale sources and sinks of the greenhouse gases.
- * NEW PUBLICATIONS *
1
Schneider, A., Borsdorff, T., aan de Brugh, J., Aemisegger, F., Feist, D. G., Kivi, R., Hase, F., Schneider, M., Landgraf, J. (2020). First data set of H2O/HDO columns from the Tropospheric Monitoring Instrument (TROPOMI).

Atmospheric Measurement Techniques,

13

(1), 85-100. doi:10.5194/amt-13-85-2020.

2
Kuhlmann, G., Broquet, G., Marshall, J., Clément, V., Löscher, A., Meijer, Y., Brunner, D. (2019). Detectability of CO2 emission plumes of cities and power plants with the Copernicus Anthropogenic CO2 Monitoring (CO2M) mission.

Atmospheric Measurement Techniques,

12

(12), 6695-6719. doi:10.5194/amt-12-6695-2019.

3
Schneising, O., Buchwitz, M., Reuter, M., Bovensmann, H., Burrows, J. P., Borsdorff, T., Deutscher, N. M., Feist, D. G., Griffith, D. W. T., Hase, F., Hermans, C., Iraci, L. T., Kivi, R., Landgraf, J., Morino, I., Notholt, J., Petri, C., Pollard, D. F., Roche, S., Shiomi, K., Strong, K., Sussmann, R., Velazco, V. A., Warneke, T., Wunch, D. (2019). A scientific algorithm to simultaneously retrieve carbon monoxide and methane from TROPOMI onboard Sentinel-5 Precursor.

Atmospheric Measurement Techniques,

12

(12), 6771-68802. doi:10.5194/amt-12-6771-2019.

4
Kondo, M., Patra, P. K., Sitch, S., Friedlingstein, P., Poulter, B., Chevallier, F., Ciais, P., Canadell, J. G., Bastos, A., Lauerwald, R., Calle, L., Ichii, K., Anthoni, P., Arneth, A., Haverd, V., Jain, A. K., Kato, E., Kautz, M., Law, R. M., Lienert, S., Lombardozzi, D., Maki, T., Nakamura, T., Peylin, P., Rödenbeck, C., Zhuravlev, R., Saeki, T., Tian, H., Zhu, D., Ziehn, T. (2019). State of the science in reconciling top-down and bottom-up approaches for terrestrial CO2 budget.

Global Change Biology

. doi:10.1111/gcb.14917.

5
Tsuruta, A., Aalto, T., Backman, L., Krol, M. C., Peters, W., Lienert, S., Joos, F., Miller, P. A., Zhang, W., Laurila, T., Hatakka, J., Leskinen, A., Lehtinen, K. E. J., Peltola, O., Vesala, T., Levula, J., Dlugokencky, E., Heimann, M., Kozlova, E., Aurela, M., Lohila, A., less, M.-K.-&.-A.-J.-G.-P.-s. (2019). Methane budget estimates in Finland from the CarbonTracker Europe-CH4 data assimilation system.

Tellus, Series B - Chemical and Physical Meteorology,

71

: 1445379. doi:10.1080/16000889.2018.1565030.

+ + + see all Department Publications + + +