Flora Incognita exhibited at the Federal Government Open Day 2022 at the BMUV
The Federal Ministry for the Environment, Nature Conservation, Nuclear Safety and Consumer Protection (BMUV) once again welcomes its guests to the Federal Government Open Day on August 20 and 21, 2022.
As one of the successful supported projects, Flora Incognita was also asked to participate in the exhibition for the visitors. The app for automatic plant identification is extremely successful with more than five million installations. It originated from a cooperation of our institute with the TU Ilmenau and is continuously improved. With the app, users can identify and map almost 5,000 plant species, save them in their own observation lists, and get the plants explained in more detailed descriptions.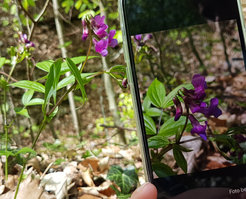 With their plant observations, users also contribute to biodiversity research: The observation data of the millions of users worldwide are linked to the locations and are also compared with curated observations of selected experts. The image evidence of plants and their locations can therefore be used to analyze and predict the distribution of species.
The Flora Incognita App is currently already on tour in Germany on the exhibition ship MS Wissenschaft, which will continue its journey along the Danube to Vienna.
At the exhibition at the Federal Ministry, the project manager at the MPI-BGC, Dr. Jana Wäldchen, will be happy to answer questions from the public.